300 experts registered for the live Chapter Event on November 5, 2020.
On Thursday, November 5, together with BASELABS, we held our fifth Chapter Event, this time focusing on one of the most critical topics for safe autonomous mobility – sensor fusion. Around 300 international engineers, researchers, consultants, and executives from OEMs, automotive suppliers, universities, and technology companies joined the online live event to listen to expert presentations and discuss new sensor fusion technologies and the challenges to overcome.
The virtual Chapter Event Safety & Sensor Fusion assembled a remarkable and diverse lineup of speakers from well-renowned companies, such as Bosch, BMW Group, Intel and leaders in sensor fusion, ADAS and AD technology, such as LeddarTech, FDTech and BASELABS. We want to deeply thank:
Marcus Obst, Head of Business Development at BASELABS
Alexander Scheel, Sensor Fusion Engineer for Automated Driving at Bosch
Cornelius Bürkle, Research Scientist at Intel Labs Europe
Carlo van Driesten, Systems Architect for Virtual Test & Validation at BMW Group
Bert Auerbach, CTO and Co-founder of FDtech
Ronny Cohen, Director of the LeddarTech Sensor Fusion and Platform Research
Last week's Chapter Event covered the following focus topics:
FOCUS I: Data fusion algorithms for SAE Level 2-4
Thoughts on the benefits of a standardized data fusion architecture for L2 systems
Bringing together machine learning and sensor fusion using data-driven measurement models
Application Level Monitor Architecture for Level 4 Automated Driving
FOCUS II: Validation of data fusion systems
Enabling Virtual Validation: from a single interface to the overall chain of effects
Validation of highly automated driving systems with virtual elements and simulation
Raw sensor fusion
Standardization of data fusion was a key discussion point among the expert speakers who also answered questions from the audience. Various benefits for OEMs and Tier 1 and Tier 2 suppliers of such a standardized data fusion architecture were presented. For instance, standards could make supplier offers comparable for OEMs and help to formalize the offering process.
On the other hand, suppliers would need much less tailored engineering of existing components for the input and output interfaces. A once standardized data fusion architecture under ISO 262626 or ISO/PAS 21448 would turn further standardization by multiple stakeholders needless. Already applicable for SAE Level 2 and 2+, this could be a first step to build on for higher SAE levels.
As with the previous four Chapter Events, each presentation was followed by a live Q&A session via Slido, tailored to the online participants' main interests. Thus, the attendees had the opportunity to further discuss certain topics and interact with the keynote speakers.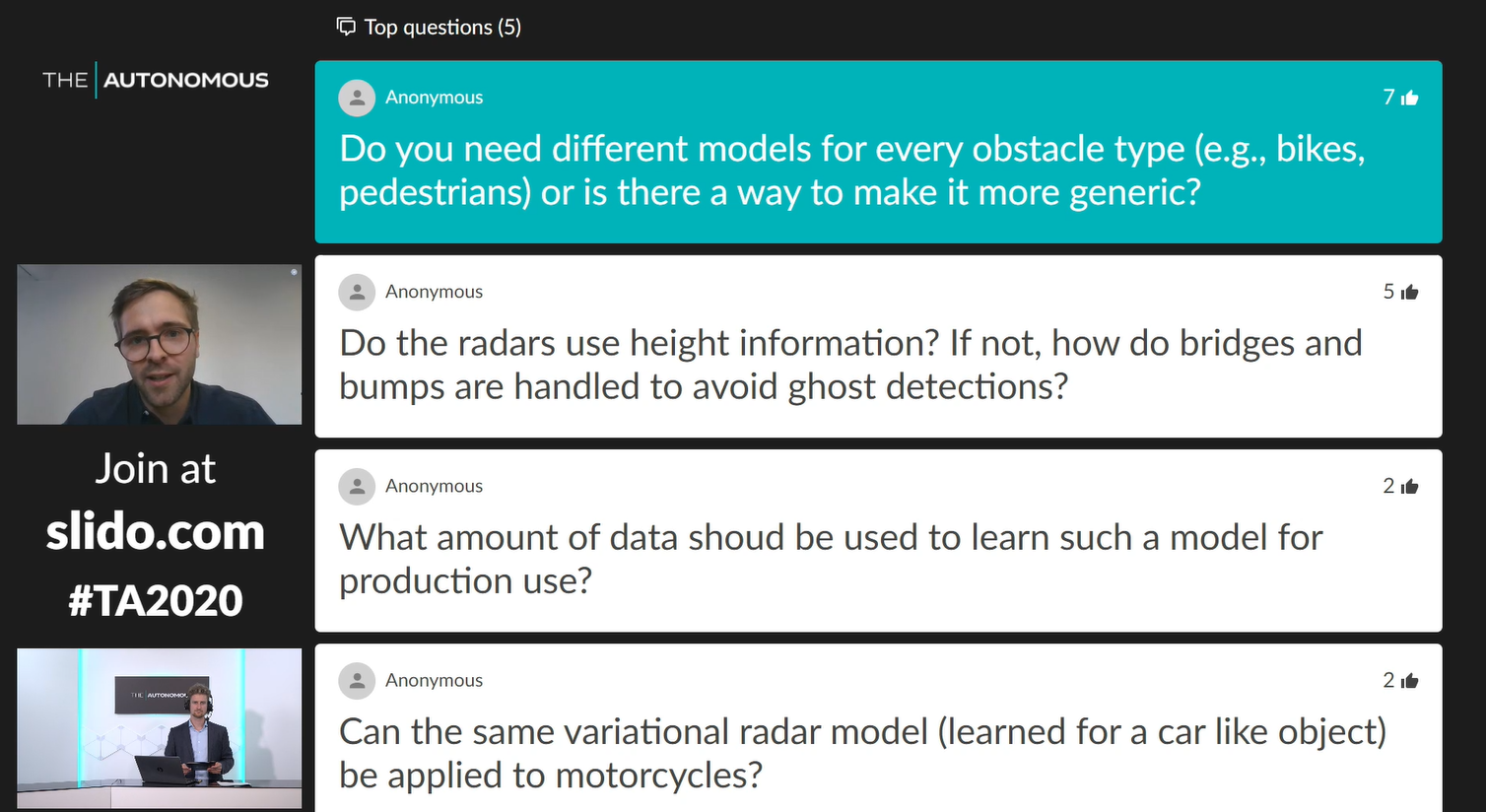 The real-time engagement and live panel discussions provided the participants with insightful information. For instance, Carlo van Driesten (BMW) presented the ASAM open simulation interface (OSI) as a best practice example for standardized industry collaboration.
Cornelius Bürkle (Intel Corporation) also reinforced that safety should not be part of the competition. In that sense, industry and organizations should agree on which models of system architectures are needed and what degree of safety they should cover.
We are currently gathering feedback from all our participants and summarizing the valuable input of this Chapter Event Safety & Sensor Fusion, which will be included in The Autonomous Report.
If you are interested in contributing to our work towards Global Reference Solutions in safe autonomous mobility, please get in touch with us!
In case you would like to directly reach out to our co-host, BASELABS, please contact Marcus Obst, Head of Business Development at marcus.obst@baselabs.de.